Program Description
The UC Berkeley History-Social Science Project (UCBHSSP), the Santa Clara COE and the San Mateo COE are collaborating with teacher leaders to develop and pilot a powerful approach to the integration of civic engagement into any History-Social Science course curriculum.  Now in its second year of development, this approach integrates civically-engaged project-based learning with History-Social Studies curriculum.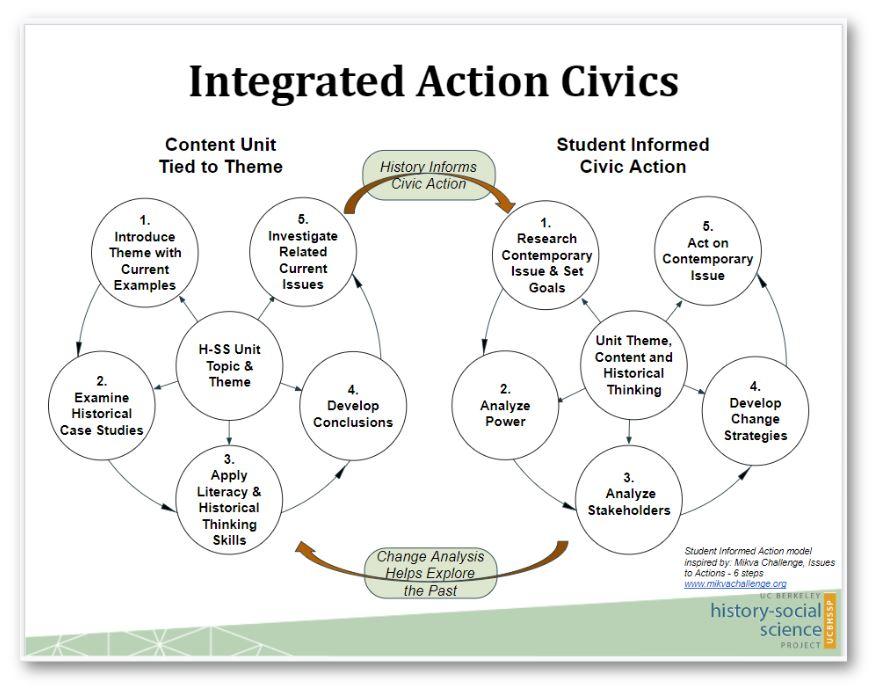 How is this approach different? 
Most civic engagement programs take place within government or civics courses, or exIst as isolated projects within history classrooms. This model engages educators in the development of civic action projects that are deeply integrated within the history curriculum, as called for in the California H-SS Framework. 
What does integrated action civics look like? 
Teachers collaboratively design, implement and evaluate curriculum-integrated civic engagement projects. 
Teachers create units within their course curriculum, referencing related contemporary themes.
Units develop students' capacity for disciplinary thinking and analysis through historical case studies. 
Historical knowledge and investigatory skills are applied to a related contemporary issue affecting the local community, moving toward developing action and advocacy-based solutions. 
Teachers integrate concepts of civic engagement, such as power and skateholder analysis, to deepen the exploration of course content.
Integrate civic engagement into your courses
Watch for upcoming workshops and institutes. See our Events listings for upcoming programs.
Bring Integrated Action Civics professional development to your school or district.  Contact us: